Dallas Cowboys vs Cincinnati Bengals live is here at the 2010 NFL Hall of Fame game is here. Â The Dallas Cowboys are going head to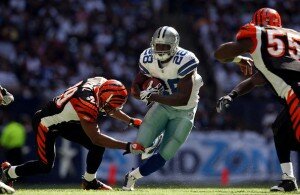 head with the Bengals in the pre-season match up that has NFL fans all over excited. Â The Cowboys are going to be missing Dez Bryant, the star rookie who is out of the game for 4-6 weeks following an injury.
This is a really big game for the two teams. Â Terrell Owens (TO) signed with the Bengals recently, and he was best known as a Cowboy for a long time. Â What does this mean? It will be interesting to see how TO is treated by his former teammates.
There's speculation that neither side will play their starting string – at least not for too long. Â No one wants to see their starting star players injured during the pre-season, and it would almost be better to take a pre-season loss than to lose a key player.
The game takes place tonight, and NFL fans are rejoicing. Â Football season is right around the corner, and we couldn't be more excited.