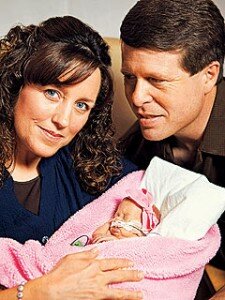 Duggar Baby 19 update and Josie Brooklyn Duggar pictures are something of a hot commodity right now.  Josie Duggar was born some 15 weeks early, and has been at the Arkansas Children's hospital ever since.
Michelle and Jim Bob Duggar recently revealed photographs of their daughter – who only weighed 1 pound 6 ounces at her birth.  While she's over 2 pounds now, chances are she will still be in the hospital for a few more weeks.
As far as  a preemie goes, Josie Duggar is doing well.  She is taking breast milk through a tube, which will help build her immune system and make her stronger.  OF course, the future still remains guarded as day to day life with a preemie can be ever changing.
In addition to new photos, which can be seen in People Magazine - the Duggar Family will be featured in a special which will air on Sunday Night.  The Duggar Family Special Delivery will chronicle the birth of Josie Duggar.
Despite the heavy criticism that the family gets for having so many children, they press on.  They live life the way they see best, and they stand by their decisions.
Many have been following the story of this baby who was born 15 weeks early.  Many are also praying for her continued recovery.