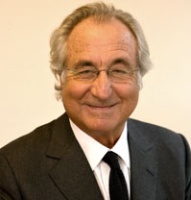 Bernard Madoff, also popularly referred to as Bernie, founded the controversial financial firm called Bernard L. Madoff Investment Securities, which was talked about a lot among other financial guys. Now Bernie is infamous because he was arrested by Federal Bureau of Investigation agents and charged with fraud.
Charges leveled against Bernard Madoff aver that he told senior employees his firm Bernard L. Madoff Investment Securities was in fact "a behemoth of a Ponzi scheme" after they attempted to spread "couple of hundred million dollars" he had remaining before calling himself in to the government suits.
According to my sources in the financial industry, the so called Ponzi Scheme involved multiples of billions of dollars.
Wow, this guy is the modern Michael Milken or what. Do you guys dabble quite a bit in financial industry? Whats your take on this. Let everybody know below.
Bernard Madoff Wiki
Bernard Madoff is an ex student of Hofstra University and his firm, the activities of which led the FBI to arrest him under Ponzi Scheme was founded in 1960. Quite old and reputed. Another surprising fact is that this firm was started with an initial seed investment of just $5000 back then. I can't say if that was a huge amount of money but where there is will, there is a way.
Many of you financial students and followers would be surprised to know that his firm – Bernard L. Madoff Investment Securities -Â  was one of the five most dynamic corporates in the maturation of the NASDAQ, and not only this, but Mr Madoff himself served as its chairman and sat on its board of governors.
Madoff, 70, is Jewish and an outstanding member of the powerful US Jewish community before the scandal hit the headlines around the world. I recall watching a clip on TV, after the news broke, where Bernie is walking down the streets in Manhattan and he gets pushed and shoved by the journalists. It was quite demeaning.
Do you know any other trivia about this white collar potential criminal? Write your thoughts below. (Please be civil, as it goes again my site sponsors editorial policy. Thanks).
Also check out my article on the first victim of this fraud – Rene Thierry Magon De La Villehuchet