This is as bizarre a story as it gets. I been able to collect this material from different source sources online. But here it goes.
Gwen Araujo, who at that time went by the name "Lida", was introduced to a circle of friends whom she met during a chance encounter while walking down a local street. The group of young adults enjoyed passing the evening hours with party activities that included playing dominoes and consuming drugs and alcohol at the home of Araujo's to-be assailants.
A few weeks later, she was invited back to the house where a party was planned. Before leaving for the party, Gwen had an argument with her mother over the attire. This was the last time Sylvia Guerrero saw her child alive.
At the party on October 3, 2002 it was discovered, by forced inspection (conducted by Nicole Brown, a young woman at the party), that Araujo had male genitalia, following which the men that she had had sexual relations with became extremely agitated. Once it was discovered that Araujo was biologically male, Mike Magidson began choking her in the hallway of the house.
At this point numerous guests left the residence. Jose Merel and Jaron Nabors remained inside the residence with Mike Magidson. Jason Cazares claimed to go outside at this point; however he did not leave because he had arrived in Mike Magidson's truck. After everyone left, the three assailants continued assaulting Araujo. She was brutally beaten for about 5 hours.
Jose Merel struck her over the head with a frying pan and then struck again with a can of tomatoes, causing a gash to her head which bled profusely. Mike Magidson kneed her in the head against the living room wall, with such force that her head caused an indentation in the plaster wall. After this, Araujo was taken to the garage of the home and strangled with a rope. Most accounts have Jose Merel cleaning blood out of the carpet at the time she was strangled.
She was then hog-tied, wrapped in a blanket and placed in the bed of a pick-up truck. The three assailants, plus Jason Cazares drove her body to parkland in El Dorado County, California, a wooded area in the foothills of the Sierra Nevada known as Silver Fork, where she was finally buried in a shallow grave.
It is not clear at what point during this sequence of events Araujo's death occurred. However, the autopsy showed that she died from strangulation associated with blunt force trauma to the head.
Indeed a sad story but I think the beatings and strangulation was too much and really unwarranted. Stuff happens but in this case Gwen Araujo paid an extremely heavy price.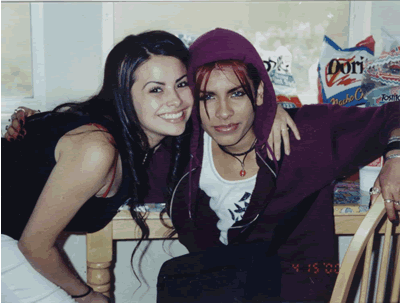 A youtube video dedication to Gwen Araujo, check it out below and leave your comments.