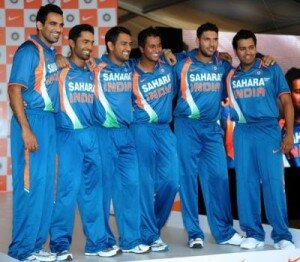 India cricket team beat Sri Lanka in the 2011 world cup cricket finals to lift the trophy in this exciting match. Sri Lankan team batted first and made a comfortable score of 274 runs. For a moment I thought Sri Lankans have won it. It was especially painful to watch Sri Lankans hammer the Indian bowlers during the last 10 overs.
Then India started batting and the first wicket fell before 10 runs were completed. Not a good picture developing for Indian fans. But the loss of an early wicket did not dampen the spirit of the Indian bats-men they continues the spirited attack and very soon it was just 4 runs needed in 11 bowls.
Wow, what an exciting match! Congratulations India and Indian cricket team for such a thrilling ride during this championship and such an exciting final.
Wish the Indian cricket team in the comments. Who do you think should be voted as the most valuable Indian Cricket player? Give you choices in the comments.